Children Etiquette & Social Skills – Teen Etiquette 101® Workshop

Duration: 3 hours x 2 sessions | Venue: Refer to Schedule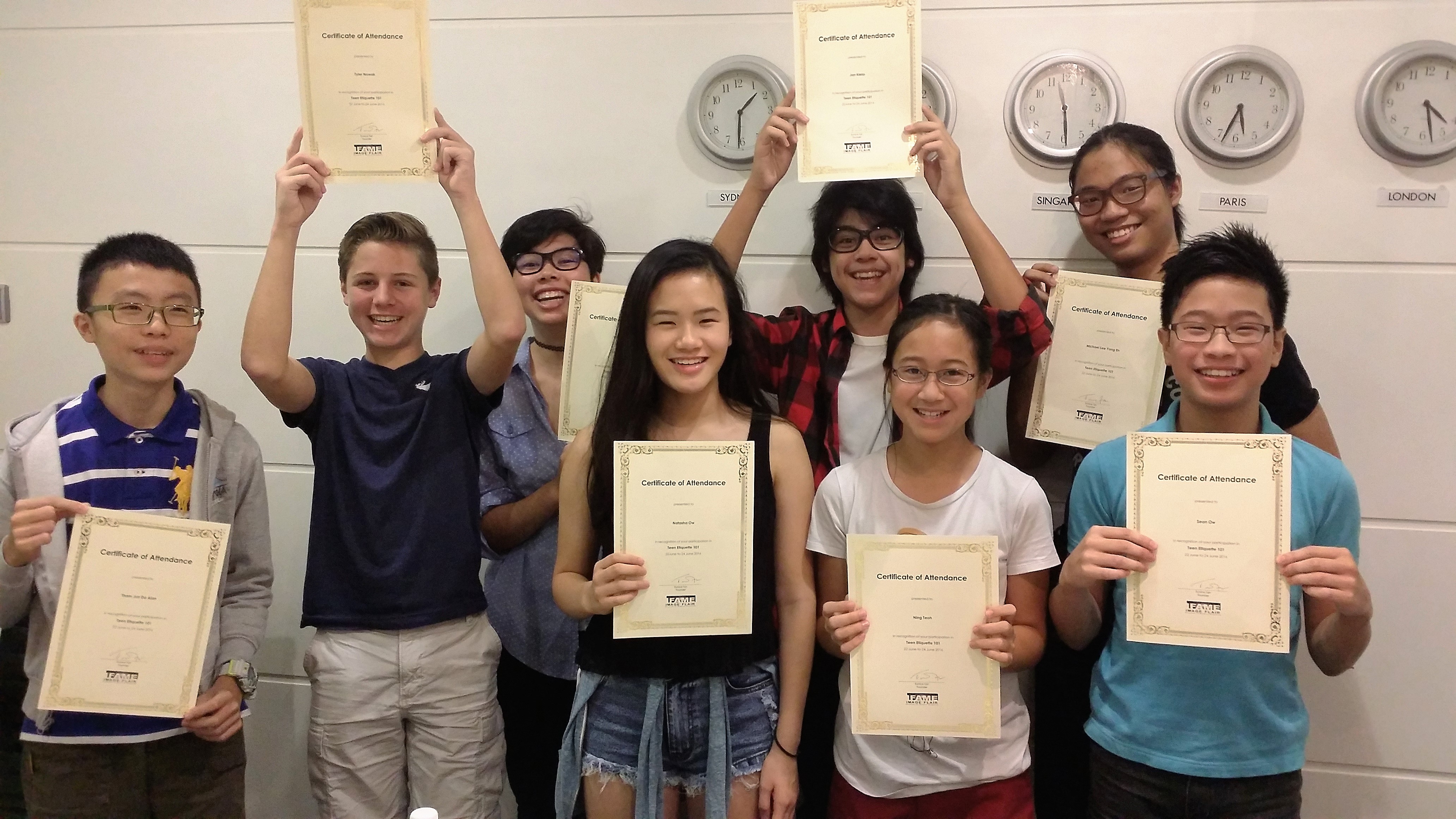 Children Etiquette & Social Skills – Teen Etiquette 101 Workshop
Image Flair has developed a customized children etiquette & social skills – Teen Etiquette 101 Workshop to aid developing teenagers and their parents on how to cope with the struggles and facets of this challenging in-between stage of growing up. These sessions aim at enhancing the natural intellect and beauty of your teenagers, without dragging them away from what they enjoy most; fun and more fun. In this new century, children are challenged to use technology as an integral part of their day, yet nowhere are they taught how to use these tools with integrity and "netiquette."

This is the age to model how to make a first good impression, not just in person but through the use of technical aids. Students who take this course will be able to demonstrate poise, confidence, dining and conversational tact. They will understand the propriety of good grooming and appropriate use of language in social situations.
Who is it for?
For teens from ages 12-19, this children etiquette & social skills – Teen Etiquette 101 course will build and strengthen personal maturity and give your child the foundation for his adult and professional life. It will increase your child's confidence, resiliency, and self-esteem. Given the knowledge and guidance to experience and meet the challenges of the teen years with the ability to make good decisions, to communicate clearly and to do it with a sense of control will allow your teen to express his intelligence, emotions, and opinions with dexterity and good sense.
What is my child going to get from this course?
In this course your teenager will understand the relationship between how they appear to others, physically and emotionally and how that expression of their individuality will set the stage for success or failure. The intricate and delicacies of good people skills can be the determination factor between success and lack of it. Tone of voice, dress, how you move and act and what is said or left unsaid all play a role in how you are perceived by others. You want your teen to understand all of this and so often, such advice and guidance is more accepted by your teenager from somewhere other than from the parents.

The focus of this children etiquette & social skills – Teen Etiquette 101 Workshop is to give effective tools to teens that will help them navigate the struggles they face simply by being a teen. In doing this, your teen will have a better experience during those years, develop better habits for adulthood and career and understand the ins and outs of personal relationships.

What is the course fee?
Refer to Schedule
What's included in the course fee?
• Certificate of Attendance
• Hands-on meal
• Course Materials
Contact Us
Image Flair values your comments and feedback. Our team is committed to providing excellent support to answer any questions you might have about our company or services.
Send us an enquiry using the form below.